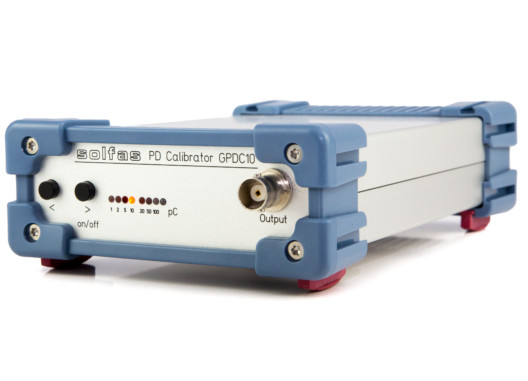 GPDC10
Partial Discharge Calibrator
The GPDC10 is a calibrator for PD measurements according to the standards IEC 60270 and IEC/TS 61934.
It is used for reference charge injection, which allows precise adjustments and sensitivity checks at PD measurement test setups.
The compact and battery-powered design ensures an easy operation. With two buttons you can adjust the charge magnitude and turn the device on and off.

The fast rise time allows measurements in the UHF range, which are required for PD measurements under short rise times and repetitive voltage pulses according to IEC/TS 61934.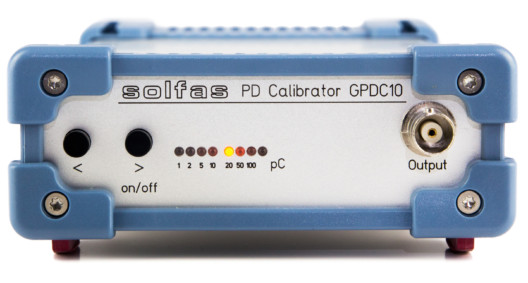 Impulse charge
1-2-5-10-20-50-100 pC (Option -A)
10-20-50-100-200-500-1000 pC (Option -B)
Impulse frequency
100 Hz
Impulse rise time
< 2.5 ns
Power Supply
2x AA Battery
Dimensions
115x50x180 mm
Weight
600 g
Output connector type
BNC
Ordner numbers
GPDC10-A (1-100pC)
GPDC10-B (10-1000pC)
Fast rise time
Selectable charge magnitude
Calibrated charge and rise time
Battery powered
Auto power off
Compact size
Our Partial Discharge Calibrator is delivered with the following accessoires:
BNC to 4mm connectors adapter
Test Leads
Instruction manual
Calibration certificate
Please specify the following order numbers when ordering or requesting:
Partial Discharge Calibrator GPDC10 (1…100pC):   GPDC10-A
Partial Discharge Calibrator GPDC10 (10…1000pC):   GPDC10-B
We support you and take care of your product
We also help you after buying our products. Whether maintenance, support, repair or calibration, it does not matter, we care about you and your products.