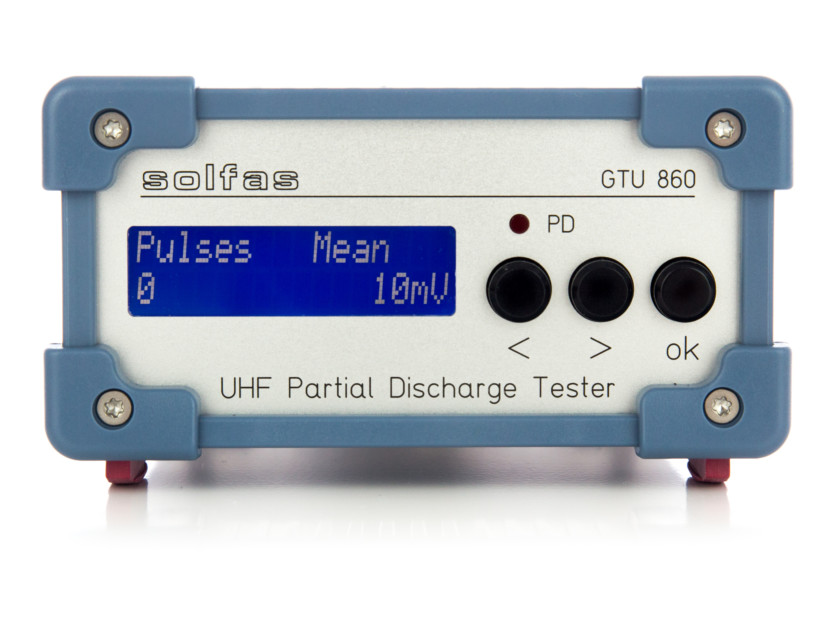 GTU860 Partial Discharge Tester
The GTU860 is a compact and versatile measuring device for various PD measurements. Due to its very sensitive PD detection in the UHF range and high interference suppression in the low frequency range, measurements with various test voltage forms are possible.
NON-DESTRUCTIVE TESTING FOR RELIABLE PRODUCTS
PD measurements with the GTU860 and pulse shaped test voltages offer completely new possibilities for electrical motor testing. Now there is the ability to test the isolation between phases and single turns. This enables new non-destructive tests for more reliable products.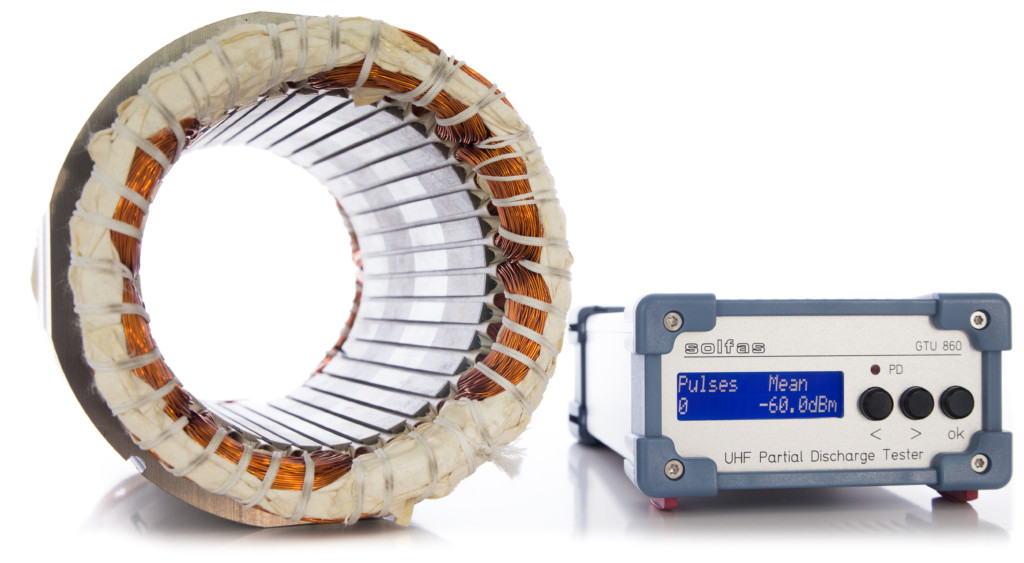 This instrument is designed for measuring PD in motor stator windings, wind turbine generator rotor windings, filter inductors, transformers and inverter drive output modules that can have short risetime voltage impulses from inverters.
The GTU860 can be used for online partial discharge testing in following branches:
Oil and gas power generation industry

Wind energy industry

Drive technology supplying industry
THE DETECTION OF PARTIAL DISCHARGES
Partial discharges are detected with an HF current transformer. The advantage is the isolation to the high voltage. The measurement is performed with a method developed by Solfas that works in the UHF range with high sensitivity. The attenuation against interference in the frequency range below 100 MHz is very high, which allows measurements with pulsed voltages such as converter output voltages.
HF current transformer

Isolated to high voltage

High sensitivity
PD MEASUREMENTS AT STATORS WITH HIGHEST SENSITIVITY.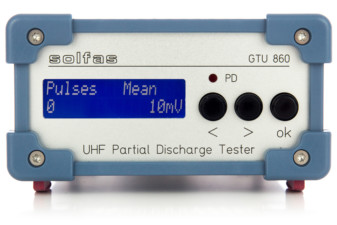 The GTU860 displays the PD number and the magnitude. Incoming partial discharges are indicated with a LED. With its simple 3-button operation, the device is stand-alone and no PC is required.
The GTU 860 is equipped with an USB interface which is used for communication and power supply. The Ethernet interface and the additional external power supply allow a simple system integration.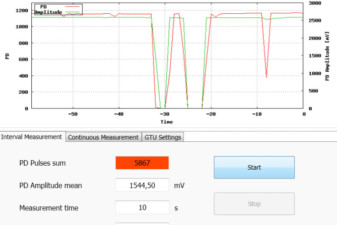 The GTU software is the ideal add-on for the PD tester GTU860. It allows complete remote operation and configuration of the instrument. The continuous measurement mode for long term tests enables to record time-based PD pulses and amplitude. The measured data are shown as a diagramm and can be exported to CSV.
| | |
| --- | --- |
| Input HF | BNC 50Ω max. Input 1V/+13dBm |
| Output HF | BNC 600Ω max. Output 3.3V |
| Measurement Range | -60dBm … 0dBm |
| Measurement Accuracy | ± 2dBm |
| Frequency Range | 200 … 400 MHz |
| Attenuation in Stopband | ≥ 60dB |
| Min. Single Impulse Spacing | < 50µs can be resolved |
| Timebase Accuracy | ± 1% |
| Interfaces | USB 2.0 / Ethernet (Option) |
| Power Supply | Via USB or 5 … 24V DC |
| AC Power Adapter Input | 80 … 240V AC |
| Dimensions (WxHxD) | 115x60x185 mm |
| Weight | 725g |
For Measurements according to IEC60034-18-41 and IEC/TS 61934
HF filtering and amplification
High sensitivity PD detection
BNC output for pre-processed PD signal
Trigger / Gating input for synchronized

suppression of disturbances

Adjustable trigger threshold level
Separate LED as PD activity display
Illuminated LCD display
USB interface
Ethernet interface
The GTU partial discharge tester can be used in diverse applications including
Research
Development
Type and routine tests
All kinds of electrical insulation can be tested, it is specially suited for testing wirewound products like
Stators
Motors
Chokes
Coils
DESCRIPTION
ORDER NUMBER
GTU860 with USB interface including
– HF current sensor for cables up to 25mm with BNC connector
– High-Quality BNC 1m
– USB/Ethernet cable
– AC Power Adapter with standardized european plug 80-240V~
– Carrying case
GTU860
GTU860 with Ethernet & USB interface including
– same like GTU860
– additional Ethernet interface
GTU860-E
GTU860 (device only)
GTU860-O
HF current sensor for diameters up to 25mm
GTU-Z01
Mains adapter for GTU800 series
– input: 100..240 VAC, 50/60Hz – output: 5VDC, 1A
– connectors: Euro plug CEE 7/16 – micro USB
GTU-Z02
High-Quality BNC lead, length 1m
GTU-BNC-1M
High-Quality BNC lead, length 2m
GTU-BNC-2M
PD multi-port coupling unit
– ideal for PD tests at stators with up to 7 terminals
– max. working voltage: 5kV AC, CAT I
– optimised for use with GTU860
GTU-Z05
Carrying case, colour  dark blue, dimension 390x310x147mm
GTU-CAS
We support you and take care of your product
We also help you after buying our products. Whether maintenance, support, repair or calibration, it does not matter, we care about you and your products.