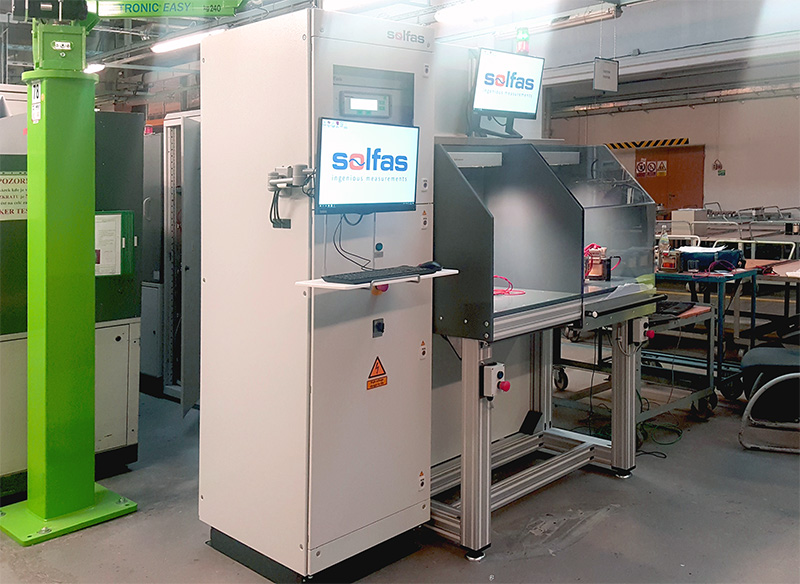 Control Transformer Test System
Test System for 1-phase and 3-phase control transformers and DC power supplies according to IEC61558
The complete Plug&Play solution
The alternating double test cabin enables fast testing by establishing the next connection during the ongoing test.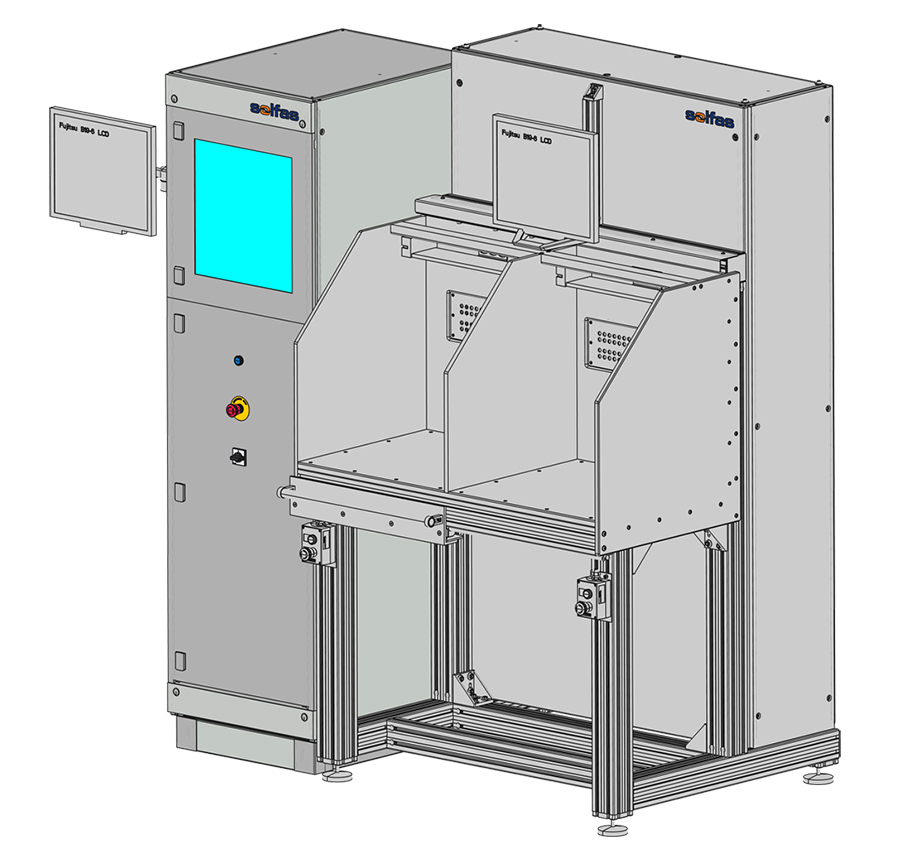 Both systems are equipped with emergency stop and warning lamps. The systems provide safety according to EN50191.
Comfortable Operation and Reporting
The Solfas Test Suite 2 software for TTS1003C and TTS1005C guarantees maximum flexibility and minimum intervention to keep the test duration as short as possible.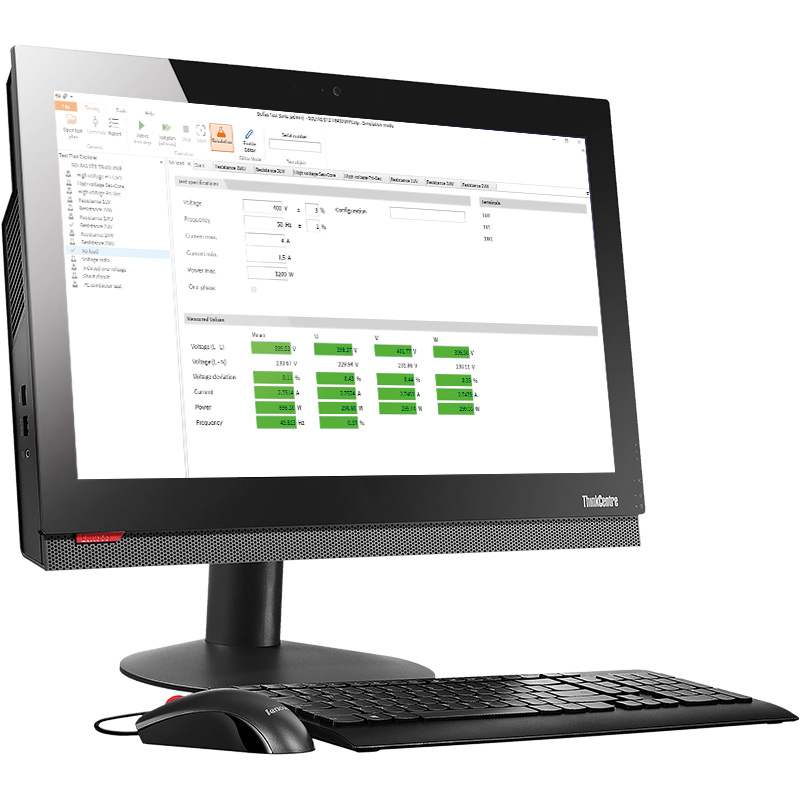 Create and edit test plans on your office PC and save them on a network drive. By using a scanner device you can load the assigned test plan on the TTS directly.  Test plans for each transformer type allow the exact repetition of individual test sequencences. Test reports are automatically generated and stored on your network drive and can be accessed from your office PC.
One Transformer, One Test Report
After each measurement. For each transformer.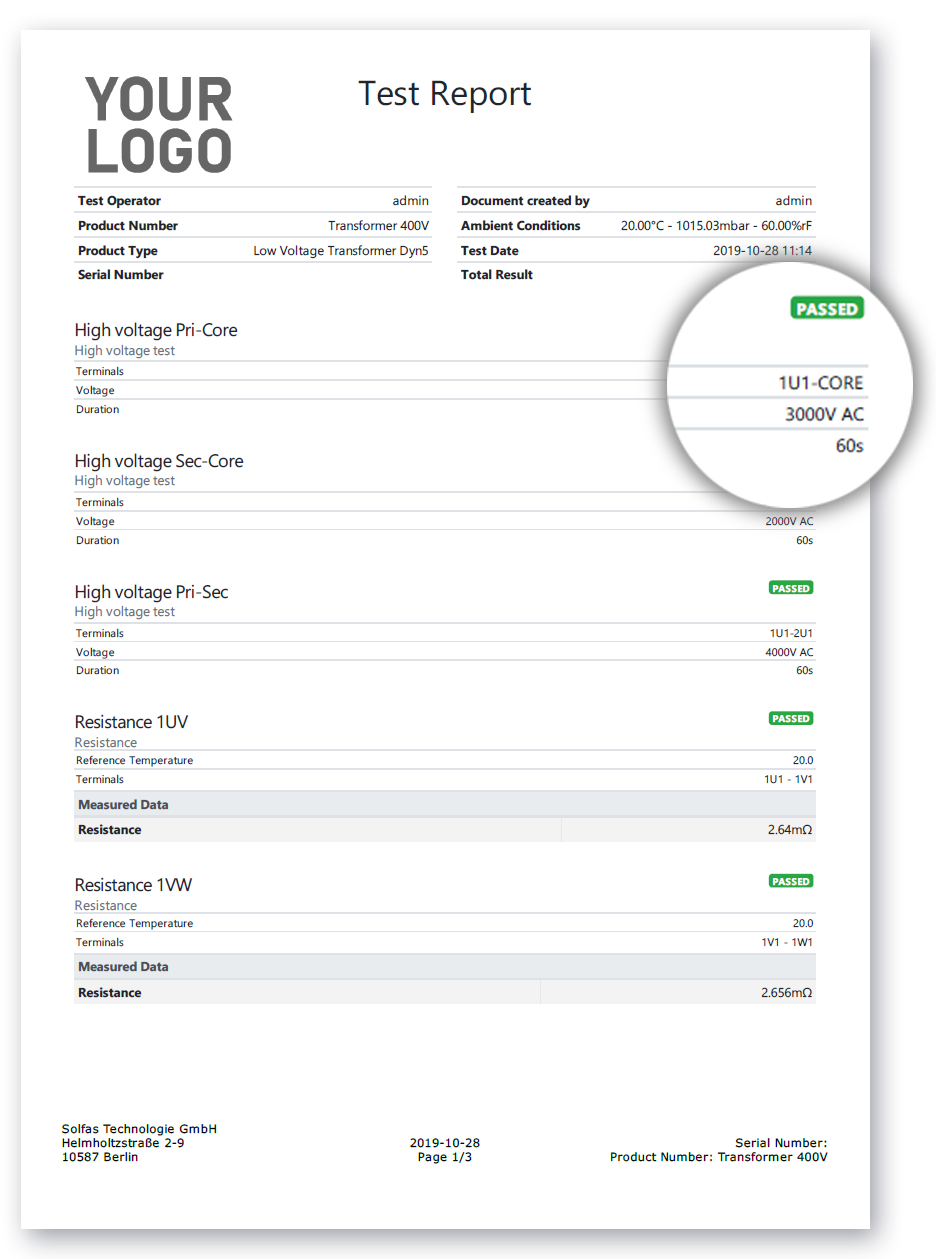 Test reports are generated automatically after each test, saved on a file server and can be easily accessed them from an office desk.
Automatic report generation

Detailed results for each test step
Model
TTS1003C
TTS1005C
Output Power
3kVA 1-phase
5kVA 3-phase
Sine Power Supply
Output Power Ranges1

250V 12A
500V 6A
1000V 3A
250V 12A
500V 6A
1000V 3A
Transformer Rating

Typical up to 15kVA
Output Frequency
50Hz-400Hz, Option for Induced AC Voltage Test with 3000Hz
Power Measurement
Precision power analyzer, Basic accuracy 0.02% Rdg + 0.02% Rng
Winding Resistance
4-wire Measurement, Resolution 1 µΩ, Accuracy 0.03% Rdg + 0.015% Rng
High Voltage Test
0.1 … 6kV AC, 500VA
Insulation Resistance (Option)
Test voltage 500V or 1000V, Resistance up to 2GΩ
Ground Bond Test (Option)
Test current 10 … 30A AC
DC Load (Option)
Programmable DC Load, Current up to 30A, 80V, 400W
Safety Features
Complete plug & play solution for safe testing according to EN50191
Alternating Double Test Cabin, Emergency Stop and Warning Lamps
Dimensions
1800x2100x1100mm
1) Customized ranges are available
Need a more custom solution?
Contact us directly and allow us to advise you!
Monday to Friday 9am-5pm
+49-30-36751954